(Everyone)
Kaylee smiled: "Thanks guys"
"Ugh, I give up" Ashley sighed.
Kaylee started giggling and Ash shook her head in disapproval: "Kaylee.. you know.. I'm starting to seriously reconsider our plans for the uh..."
"Ashleeeeeeeey! Ashley noooooooooooooo" Kaylee called, letting her head fall, face first on the table.
Angelo wrote:He then gives a curious smile. "So tell me, what were you two doing here together last night?"
Kaylee and Ash turned red and went silent for a moment.
After a few seconds Ashley crossed her arms and lifted her chin:
"Curiosity killed the cat, Angelo..."
Eva smirked, scratching her cheek: "Hehe... red as a lobster. Someone went real quiet, real fast"
"S-shut up!" Ash glared at her.
"Alright guys we better move out before the concert starts without us" Eva giggled and waved everyone to follow.
After a rapid jog to the concert hall, you walk in just as the final visitors were taking their seats.
You spot Harlequin and Rain some distance away, they must have walked in just a few moments ago.
Almost as soon as you took your seats, the concert hall went pitch dark.
The audience began cheering and occasionally applauding, as silhouettes began to move on stage.
You couldn't see anything. For a few moments, everything was shrouded in darkness.
Until, several white projectors illuminated three shadowy silhouettes on stage, in sharp contrast to the darkness behind them.
".....heheheh..." one of the silhouettes quietly laughed: "...hey, hey... do you know where we are?..."
The three silhouettes quietly giggled:
"...we're sailing just over the Marinah Trench... The deepest known point, in the Earths ocean floor. Its so deep and dark, that nobody knows whats down there...
And the ships that sail over it!-..."
Another silhouette giggled: "They say Straaaaaange things happen on board..... things they cannot explain..."
The third silhouette smirked: "...I sure hope nothing happens.. at Nightmare Night!"
Blinding colorful lights suddenly lit up the stage, revealing three beautiful mares in brilliant outfits.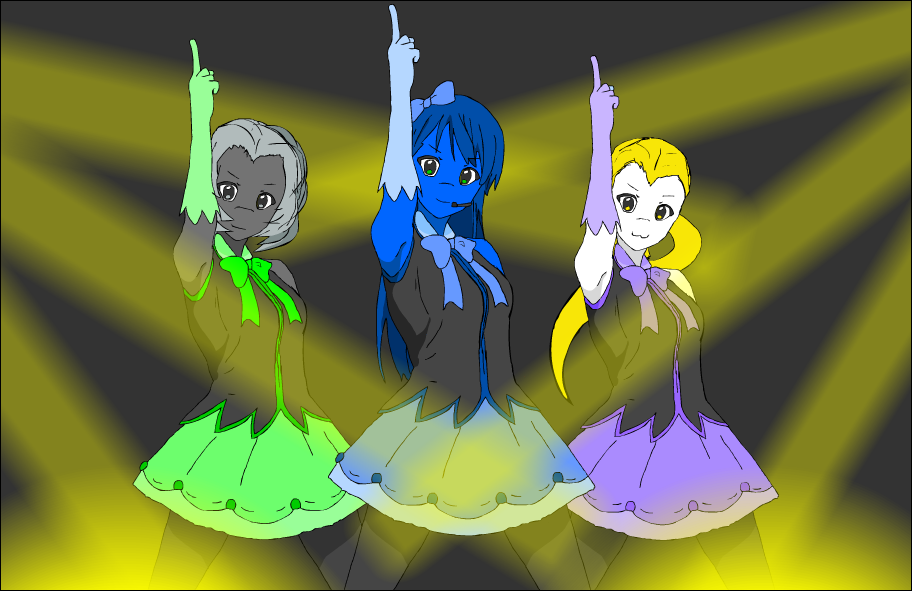 Madelyn, Penny and Cookie, grinned to you from the stage. Their jolly and upbeat attitude was so radiant, it was infectious.
"
ARE YOU READY TO RUMBLEEEEEEEEEEEEEEEEEEEEEEEEEEEEE!!!!
" Penny excitedly screamed into her microphone and the crowd erupted in cheers.
Penny collected her fist with palpable energy and looked at the DJ, releasing a wide grin:
"
HIT IT!
"